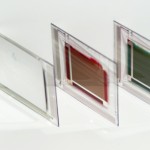 IDTechEx. Juillet 2013.
« IDTechEx visited Grenoble recently, which has a particularly large concentration of companies working on organic, printed and/or flexible electronics in France. One of those is start-up NikkoIA, aiming to exploit the huge development in materials for displays and photovoltaics by using them as optical sensors.
The company makes visible and infrared image sensors using a combination of organic materials and quantum dots layered on conventional TFT/CMOS backplanes. The company intend to make the sensor element, including digital I/O controller, and sell these to system integrators.
NikkoIA coat the organic thin films onto a TFT substrate or a CMOS sensor, resulting in an optical sensor. The organic and inorganic materials they deposit vary depending on the application i.e. what part of the visible and infrared spectrum is needed to detect. Most of the materials are organic layers but they integrate some quantum dots to tune the sensitivity of the device to some light wavelengths.
Their devices cover the visible and infrared spectrum range. They can be « tuned » to detect different wavelengths in that spectrum by using different materials.
They can deposit the layers by spray coating, die slot coating etc but are currently using spray coating. They cover the full surface and do not therefore need lithography steps. The device is then sealed to protect the organic layers. The devices are currently rigid (on glass or silicon) but the technology is also compatible with the use of flexible substrates such as printed TFT foils.
They have recently developed a version which has a scintillator layer over the organic sensor which converts x-rays to visible spectrum light which is detected by the organic layer.
The main proposition of the company is to enable low cost large area sensors (up to 55 x 65 cm²) as well as small, high-resolution infrared CMOS sensors at the same cost structure as traditional CMOS imagers. Applications include biometric sensor (offering cost reduction, flatness and enabling multi-modal biometrics through simultaneous fingerprints and vein detection), person monitoring/theft alarms (cost reduction and coverage of visible and infrared in single sensor), driver assisted applications in automotive, and much lower cost large area sensors for medical and veterinary purposes.
The company was founded two years ago and is already working with customers on samples. They are currently in a series A fund raise, where they plan to use the money to set up their own production line. »
http://www.printedelectronicsworld.com/articles/organic-image-sensors-from-nikkoia-00005604.asp?sessionid=1